Now you don't even need your own website to advertise products, DoAffiliate team created the tool, which will generate a website with all the campaigns you choose. There are plenty of customization options to make everything even more accessible. It will take just a few minutes of your time and no need to have any web development knowledge only idea on how you want your website to look. We want to support you as much as possible, that's why we are planning to add even more templates in the future but as for right now, this tool already prioritizes campaigns based on the performance and will always put the most effective campaigns on top. Any changes regarding the campaign will be updated automatically and you don't need to worry about any changes.
Where you can find WPG generator?

When you log in to the system on the left side you see the panel with different options. You need to go to "Tools" and choose "WPG generator".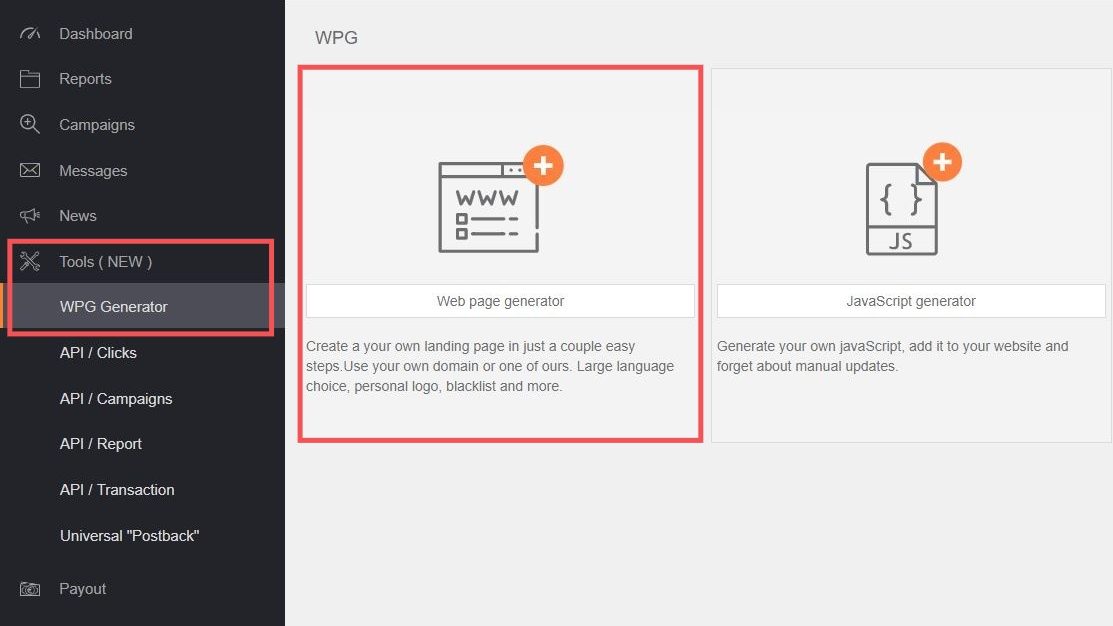 So, how does it work? Create your own landing page in just a couple easy steps. Large language choice, personal logo, blacklist and more. Here will be step by step guide:
    1. Make your domain
Firstly you need to decide which will be your target market and then there is an option to choose a domain from the list or you can make your own! We have added an option to use your own custom domain and you just need to put a thick at "Add Your own DOMAIN".  If you decide to use one of our free domains you can be sure, that they are specially created for specific market based on the country you choose.

Once you own your own domain, you can do anything you want with it. If you are a business owner, you can use it to host your online page or share critical information with a global customer base. Not only that it helps your overall branding online to your customers and soon to be customers. If you are an individual, you can create a digital home base that you can use to communicate with friends, family, and acquaintances. It's a real online location to refer people if they want to learn more about you or your product.
    2. Templates, language, loan type
Next step –  decide what language you want your website to be and choose one of our templates. If you have a well-designed site for your business, you'll get more customer conversions.  All templates are made as easy for the customer as possible This is the main objective we have built our templates on – to make it as easy for the customer as possible.  Whatever action you want your customers to take when they reach your page, you can guide them to that action with elements of web design.

More and more users do business on their mobile phones these days.  If you take advantage of responsive web design, your business can have a new set of customers.  You can gear business towards those people who aren't always near a computer.  Using web design effectively allows you to capitalize on the technology of the time to gain all the customers you can. All our templates are both, computer and mobile-friendly.
It's up to you what kind of loans you will offer, in our list you will find many different loan types: short term or long term loans, credit line, or there is also "custom" option.
3. Choose campaigns
It is often hard to tell, which campaign performs better or how to optimize your campaign list for a website to get out most of the conversions. If you decide to choose our widget, this issue is gone. Since affiliate marketing revolves around niche products, you may be willing to create a widget website only with campaigns hand-picked by you, then just choose the "custom" option and choose all the campaigns you want.
We will put the best performing campaigns on your widget and, if you want to change something, you can do it without any problem. The main idea behind this is that we want you to focus on advertising and we will do the rest.

 4. Make a logo just in 1 minute
After all previous things are done, you can create your logo in colors and style you want. There is a list of icons all related to finance, so it is easier for you to grab customers attention. We also didn't forget how much you liked all the colors, so we kept that option for any element in your own logo. Aside from that, you can choose to use a single brand name in your logo or more words, it is all up to your preference.

5. Campaign limit and loans amount
After all campaigns you choose the only thing that is required from you is to choose what colors the website will have and the amount of loans based on your criteria. Also, there is an option to choose fields, which will show in all the campaigns you choose. For people, it is really important to get all the information in one place, so they don't need to find it by themselves. For the decision about loans, people need information about the amount, period, approval time and of course maximum of the loan they can get, so you can decide which of these fields will show in your website.

6. Add custom texts
Add some titles and information what can be useful for your customers and try to ensure them, that your website is the best for taking loans.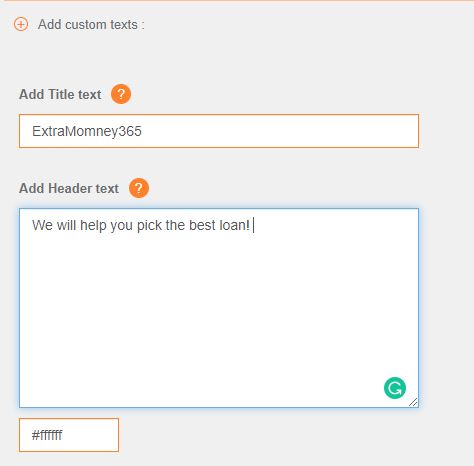 7. Generate website, see the result, start to earn money! 
There is going to be an option to copy a link, which is a link to your website with all the right tracking codes already set up. After all these easy steps, your website is ready. Tap "Generate" and then you will see your web page preview. If you don't like something, you can change it at any time you want. The only thing that is left is to advertise this brand new website you have and get some traffic!